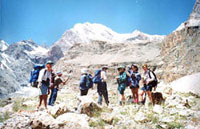 Tour agency "Pamir Travel Ltd" is relatively young, activity of which was began since 1992, but for this short period it obtained enough fame and popularity in the tourist market of Central Asia Tour agency "Pamir Travel Ltd" offers to You big choice of different interesting and fascinating tours on the whole territory of Central Asia. If You look at the geographical atlas, You can see at the South-East of Central Asia - Tajikistan, which borders with Uzbekistan, Kirghizstan, Afghanistan and China. travelling with us on the wide space of Central Asia, and also on the Great Silk Road You can visit ancient-historical cities of Penjikent, Khujand, Istiravshan (Ura-Tube), Isfara, Hissar, Kabadian, Pamir, Vakhan, Ishkashim, Vrang, Zong and etc. Our routes pass from sun dried deserts up to high snow covered peaks, where You'll happen in the wonderful mountainous country - TAJIKISTAN.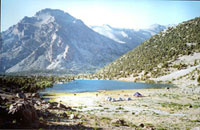 All our routes lie in the unique Central Asian region of the Great Silk Road, where the most ancient monuments of history and culture are situated. It neighbors with such famous mountain system of the world, as Pamir, Pamir-Alay, Tien-Shan. Nature has awarded with a special beauty these wonderful places, here deserts neighbor with green oasis, fertile sunny valleys with high mountain peaks, alpine grasses with eternal ice-glaciers. Here the regions which still kept their first creature, strike with their fabulous-picturesque lakes, lying on the necklet of snowy mountains, with fast mountain rivers carrying turbulent-crystal water and with the aroma of mountain flowers and forests. All these makes an extreme condition for nearing the man with nature. travelling with us you'll get acquainted closely with ancient culture and ethnography of the people living in Central Asia, with their different traditions and hospitality. You can choose for Yourself any kind of mountain TRAVELs on Pamir, Pamir-Alay, Tien-shan.
Our company "Pamir Travel Ltd" organizes many different fascinating and very
interesting program of TRAVELs along TAJIKISTAN and Central Asia.

- Mountain travels, trekking.
- Adventurous tours in Pamir and ecotourism,
- Mountaineering in Fann mountains - Pamir;
- Jeeptour along Great Pamir.
- Active rest in the mountains Pamir.
- Ecological tours.
- Climbing in Pamir. Pamir-Alay and in Fann mountains.
- Expeditions on Pamir, Tien-Shan.
- Rafting in mountainous river of Zerafshan valley, and Pamir-Alay.
- Excursions along Great Silk Road on the whole territory Tajikistan and Central Asia.
- Excursions along the ancient towns in Orient - Tajikistan.
- One day excursions programs on cities Central Asia.
- Excursion program in Penjikent and picnic in mountain, full day program in Pendjikent.
- City tours on the ancient historical towns of Central Asia.
- Ethnographic and cognitive travels on Central Asia.
- Horse riding tours.
- Helicopter excursions.
- Heli-ckiing.
- Combined tours on ancient towns of Central Asia and mountain TREKKING.
- Two-three days trekking and excursions in the countries of Central Asia.
- Travels on deserts and in the mountain spaces.

---

PAMIR TRAVEL Co. INVITE YOU TO TRAVEL WITH US ALONG WHOLE
TAJIKISTAN AND CENTRAL ASIAN countries.

We offer to you attention:
Adventure tours: trekking, mountaineering, rafting, deserts, horse and camel riding,
and also fascinating tours in ancient legendary and historical cities along the GREAT SILK ROAD.
---
OUR ADRESSES:

Head office in Tajikistan:
Dushanbe Tel:(+992 37)224-02-13; mob: (+992)93 599-3737; +992 93 1879321
Branch office in Khujand: tel/fax:(+992 3422)4-30-20;mob:(+99292)771-9321; (+992 93) 187-9321;
Branch office in Penjikent: tel/fax:(+992 3475) tel:5-50-88; 5-31-34; (+992 93) 566-37-37$ (+992 92) 845-05-40

Director Sadoullo Khasanov
- mobile in Tajikistan (+992 92) 771-93-21;
- mobile in Uzbekistan (+998 90) 187-93-21;

Branch In Uzbekistan:
Our address:Branch in Uzbekistan: Tashkent, Farkhadskaya str. 20-8
Tel/fax: (+998 71) 250-87-39; (+998 71)250-87-37; mobile:(+998 90)187-93-21;
Work mob: (+998 90) 939-7329; director: (+998 90)174-93-21;
E-mail: sadoullo@mail.ru
E-mail: pamir-travel@list.ru
E-mail: kazilmira@mail.ru
E-mail: sayoh@mail.ru
Web-site:http://www.pamir-travel.com
Web site:http://www.pamirtourservice.com