| | | |
| --- | --- | --- |
| | Discovery Turkmenistan | |

ITINERARY
Day 1
Transfer for SS to Kunay-Urgench (180 km). Short stop at Uzbek-Turkmen border at Tashauz takes 30-40 minutes. You will get acquainted with the history of ancient capital Kunay-Urgench and Gurganj state, visit monuments, such as Turabek Khanum mausoleum, Sultan Tekesh mausoleum and Il Arshan Tomb, the highest minaret Kutlug Timur (62 m). After lunch transfer back to Tashauz (100 km) for evening flight to Ashgabad. Upon arrival transfer to the hotel.
Day 2
Early in the morning SS to Sunday bazaar near Ashgabad, it is famous for its hand made carpets. After lunch SS in the city with visit of the museum of History and Arts.
Day 3
Early in the morning transfer to Mary (380 km). After lunch SS to ancient Merv, situated 15 km to the North from Mary. Ancient Merv occupies 130 square km and includes five different towns, surrounded by the walls, belonged to five different epochs. The most ancient - Erk Kala, belonged to the 6th century B. C. You will visit unique Sultan Sanjar mausoleum, 38 metered dome, which was said to be visible a day's march away and also mausoleum Mahammed Ibn Said and ruins of Kys Kala palace.
Day 4
Transfer to Bukhara. The road goes through the sands of Kara-Kum. On this day you will cross one of the greatest rivers of Central Asia-Amu -Dariay (Oxus) by panton bridge. Arrival in Bukhara in the evening.
| | |
| --- | --- |
| | |
---
| | |
| --- | --- |
| Days | 4 |
| Season | April - October |
ONE DAY TRIP TO KUNAY-URGENCH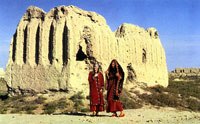 Kunya-Urgench - the ancient capital of Khorezmit. Is situated 160 km to the North-West from Urgench (Khiva) on the territory of Turkmenistan. On the way stop at the border at 5 km from Tashauz for drawing up visa.
You will get acquainted with centuries-old history of Gurganj and will see historical monuments of the 12-14th centuries, such as Turabek Khanum Mausoleum, Sultan Tekkes Mausoleum, Arshan Tomb, the highest minaret Kutlug Timur (62 meters).