| | | |
| --- | --- | --- |
| | Uzbekistan tours | |
TRIP TO TERMEZ
ITINERARY
Day 1
Transfer from Bukhara (Samarkand) to Termez (390 km). The road goes via Guzar, Sherabad city along a big Uzbek highway. On this day you will see gigantic - one thousand year chinar (platan) and medical mineral spring in the settlement sairob. Upon arrival checking in the hotel.
Day 2
Sightseen includes visit necropolis of the founder of Dervish order"Khakimi" - saint Khakimi Thermezi of the 9th century, buddist monastery complex of Kara Tepe and mausoleum Fayaz Tepe, necropolis of the dynasty of Thermez rulers - Sultan-Saodat.
Day 3
Transfer to Samarkand (390 km). Lunch in Shahrisabz.
---
| | |
| --- | --- |
| Days | 3 |
| Season | July - September |
TO THE TAMERLAN CAVE
Gissar range is situated on the South side of mountainous country of Pamir-Alai. There're a number of paths and mountainous roads crossing the range. In the far Past the Great Temur (Tamerlan) was bred in the above region. The offered itinerary is connected with Temur's life. Cyclists will visit cave which he used as shelter to avoid his enemy, also they'll have a look at saved traces stayed after dinosaurs on the stone tails.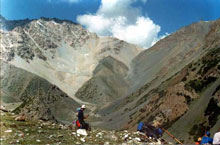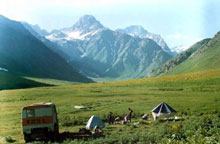 ITINERARY
Day 1
An arrival in Tashkent the capital of Uzbekistan. Excursion on the city.
Day 2
Transfer by the bus in Samarkand, one of the most largest cities in the"Great Silk Way". Excursion on the city.
Day 3
Transfer by the special bus to the Lyangar village. accommodation in houses of local peoples. Sightseeing of Djami - Mosques (XVI c.) and mausoleum Lyangar - Žt . Preparation to bicycle's route.
Day 4
a Beginning of bicycle's route. transfer over the moutain pass Kuduksara to the valley of"Igrisu" river. transfer along of the river to the mountain"Akkishlak" village. Camp # 1 in vicinities of village on the bank of"Aksasu" river.
Day 5
Transfer to the"Dukanhana" village. Ascent on the"Kyzykkhana" pass (2600¬). Camp # 2 on the mountain plateau near canyon of"Kolosai" river.
Day 6
In the first half of day walk excursion to the"Timur" (Tamirlan) cave. The cave is horizontal, length is near 600 ¬, with the lake. In the afternoon descent by bicycles from the mountaing pass to the valley of Kyzyl - Darya. Camp # 3 in the"Tashkurgan" village.
Day 7
Day of excursions. travelling by foot walk to traces of dinosaurs (29 clearly saving imprints of traces on the tilted stone lash). Return to the village. Sightseeing of ruined mosque"Almadina" (XVII¢). Acquaintanceship with peoples life of the village.
Day 8
Tens day. Ascent on the moutain pass on the good road. Descent to the "Tatar" village. Accommodation in houses of local peoples.
Day 9
Transfer to the Shahrizabz city a native land of Timur. Accommodation in the hotel. p. m. excursion on ancient monuments of city.
Day 10
Transfer by the bus in Tashkent city. Accommodation in the hotel.
Day 11
Departure from Tashkent.
---
| | |
| --- | --- |
| Days | 11 |
| optimum group | 6-12 |
| Season | July - September |
TRIP TO SHAHRISABS FROM SAMARKAND
Shahrisabz is the native city of Tamerlane. It is a small city, wallowing in verdure, is situated in the mountainous foot of Gissarskiy range, 130 km to the South from Samarkand. If you decide to make one-day TRIP on Sunday to Shahrisabz, stop in Jam-bazaar is possible. You will not see the modern trade rows. Everything is here as it was centuries ago. Here you can buy rugs with decoration, particular to this region. You will visit architectural monuments such as Ak-Sarai, Kok-Kumbaz mosque, Torut Tilovat Mausoleum, Dorus Siadat necropolis, associated with Amir Timur. You will find out many interesting facts about this cruel conquer. The road back to Samarkand is over Tahta-Karacha pass. Panorama revealing from this pass will remain forever in your memory. Lunch in a cafe "Thousands chinaras" (platan).
FROM FERGANA TO SHAHIMARDAN
WITH PICNIC
Shahimardan village is situated 80 km to the South from Fergana in mountainous foot of Alaiskiy range at the bank of Shahimardan river. Plenty of picturesque villages and apple gardens are on the road from Fergana to Shahimardan.

Three kilometers up the road takes you to Kurban-kul lake, which is considered to be a holy among Moslem people. You will be satisfied with small walks round the lake as well as panorama of the mountains.
EXCURSIONS IN ANCIENT TOWNS OF THE ORIENT
Our coach tour will immerse you deeply in the history around some of the most ancient towns of the world - Samarkand, Bukhara, and Khiva. World famous monuments of ancient architecture remember Alexander the Great and Chengiskhan.
Once there was the center of vast medieval Tamerlan's Empire here.
Tourists will remember tall, thin minarets, grandiose madrassahs and mosques, palaces and mausoleums decorated with incredible ceramic ornaments, noisy and colorful oriental bazaars, interesting legends, warm hospitality and ancient traditions of local inhabitants for a long time.
| | |
| --- | --- |
| | |
ITINERARY
| | |
| --- | --- |
| Day 1 | Arrival in Tashkent. Accommodation. Visiting the old city, Barak-Khan madrassah (XVI c.), Yunus-Khana mausoleum, Kaffal-al-Shashi mausoleum (XVI c.), Kukeldash madrassah (XVIII c.), museum of Applied Art, square of Independence, Friendship peoples square, metro, National Theatre of opera and ballet. |
| Day 2 | Transfer by airplane to Urgench (Khiva). Sightseeing in Khiva. Visiting of Ichan-Kala, Mohammed Amin Khan Madrassah, The Kunya Ark (XVII c.), Pakhlavan Mahmud complex (XIV-XIX cc.), Islam Khodja madrassah & Minaret (1908), Jumma mosque (XV-XVIII cc.), Tash Hauli Palace (XVIII-XIX cc.), Bazar. Back to hotel in Urgench. |
| Day 3 | Transfer by bus to Bukhara (500 km). |
| Day 4 | Full day in Bukhara. Sightseeing in Bukhara. Visiting of Samanid's Mausoleum (IX-X c.), Chashma Aub mosque, Poi-Kalan complex (XII-XVI c.), Ulugbek madrassah, Lyabi-Hauz complex (XVI-XVII c.), Sitorai okhi (XIX c), Khosa summer palace, Bolo Hauz, Ark fortress. |
| Day 5 | Transfer to Samarkand (300 km). |
| Day 6 | Full day in Samarkand. Sightseeing in Samarkand. Visiting of Guri-Emir mausoleum (XV c.), Registan square (XVII c.), Bibi-Khanum cathedral mosque (XV c.), Ulugbek observatory (XV c.), Shakhi-Zinda mausoleums ensemble, Al-Bukhari complex, bazar. |
| Day 7 | Transfer to Tashkent (300 km). |
| Day 8 | Departure from Tashkent. |
---
| | |
| --- | --- |
| Days | 8 |
| Season | 10. 07 - 10. 09 |
ONE DAY TRIP FROM FERGANA TO
SHAHIMARDAN WITH PICNIC
ITINERARY
Day 1
Transfer from Tashkent to Bishkek takes 9-10 hrs (600 km), it goes via big cities - Chimkent and Djambul. The most part of the way goes along the territory of Kazakstan. Closer to Bishkek grandiose mountains of Kirziskiy range appear with the summits covered by snow. Lunch on the way.
Day 2
SS in Bishkek visit of historical-architectural complex Buran's Tower, situated 70 km from Bishkek; house-museum of Frunzer, historical museum, the museum of Arts, Ala-Too and Pobeda (Victory) Squares, Dubovoi and Panfilova Parks, bazaar.
Day 3
Transfer from Bishkek to Almata takes 4 hours (270 km). The road goes along Zaaminskiy Alatau range. Upon arrival in Almata checking in the hotel. SS, including visit park of 28 Panfilovtsev, wooden cathedral, St Nikolai church, museum of musical instruments.
Day 4
Visit high-mountainous skating rink Medeo and landslide-protective dam, situated in the mountains of Zailiiskiy Alatau at the altitude of 1690 m. Light walk and picnic. P. M. free time.
Day 5
Depart home.
---
| | |
| --- | --- |
| Days | 5 |
| Season | July - September |
THE GOLD OF DESERT
ITINERARY
Day 1
Transfer from Bukhara to Nurata, which is situated in Kizil-kum desert takes about 3 hours (160km.). Excursion, lunch in National house. Then night at the Sentyabsai village, which is situated in Nuratinskiy range in river Sentyabsai's canyon.
Day 2
Transfer Aidarkul-Sentyabsai village (110 km). Here people mined gold may time ago. The way goes through along Nuratinskiy range with the highest point of 2169 m. Walks in picturesque canyon, not far from the village ruins of ancient settlement have been preserved. Overnight in tents camp at the bank of the river.
Day 3
Transfer to Samarkand (200 km).
---
| | |
| --- | --- |
| Days | 3 |
| Season | July - September |
ONE DAY TRIP FROM FERGANA TO
SHAHIMARDAN WITH PICNIC
Shahimardan village is situated 80 km to the South from Ferganain mountainous foot of Alaiskiy range at the bank of Shahimardan river. Plenty of picturesque villages and apple gardens are on the road from Ferganato Shahimardan.

Three kilometers up the road takes you to Kurban-kul lake, which considered to be a holly among Moslem people. You will be satisfied with small walks round the lake as well as panorama of the mountains.
ONE DAY TRIP PICNIC TO CHIMGAN (West Tien-Shan)
Chimgan canyon and high-mountainous resort of the same name are situated 80 km to the West of Tashkent in West Tien-Shan mountains, on the slope of Bolshoi (Big) Chimgan (3309 m). The road goes by Chirchik river to this marvelous part of nature. Picturesque villages stretch one by one along the road, some of them alternate with fruit gardens and vineyards. Further the road is over at dam of Charvak hydroelectric power station and goes down to the water reservoir. Splendid views of artificial mountai - nous lake reveal on the way. The lake is chained of mountainous ranges and formed by three mountainous rivers: Pskem, Chatkal, and Aksu. Here you can go boating and surfing, swim and lay under the sun. Further up on Chimgan-sai you will get to Chimgan, situated at the altitude of 1500-1700 m above the sea level. It is the most popular place of rest. In winter it is skiing first of all, in summer - light walks, ascents and paragliding. By chair-ski lift you can rise to the altitude of 2000 m, wonderful panorama of the region reveals from this point. Here you can ride a house. After descent to the valley there will be a stop for picnic-lunch in a picturesque national cafe under millennial chinars (platans) View of rock paintings. After lunch return to Tashkent.
Historical places in Termes
1. Dalverzin Tepe – was once one of the most glorious Kushan cities of the age and an early capital for the Yue Chi Turkic tribes. Today only sunken remains of a Buddhist temple, Bactrian shrine and Zoroastrian altar remain, encased in a five-sided city wall between the modern towns of Denau and Shurchi, 180 km from Termez, toward Tajik border.

2. The Buddhist monastery complex of Kara Tepa is unique in Central Asia. Not only is it the only rock-hewn Buddhist cave complex in the region, and thus the main connecting thread between the Afghan sites of Haibak and Bamian and the sites of the far side of the Oxus, it is also the only monastery to lie behind an electrified fence in international no-man's-land.


3. The Fayaz Tepa site, four km north of Termez consists of the archaeological remains of a two-millenniums old Buddhist temple and monastery complex, whose impact is perhaps more intellectual than visual. The large central courtyard, the heart of the Buddhist temple, is flanked to the west by the main living quarters of the monastery and to the east by the main refectory. The brick stupa to the north of the temple dates from the first century BC and is only inner section of a much larger construction that rose from the cross shaped foundations. Clay and gypsum statues of Buddha, a series of murals depicting various adorants in Kushan dress and fragment of pottery containing Brahmi, Punjabi, Kharoshti and Bactrian scripts have all been found on the site, underlining its essentially Eastern orientation. Remain have also been discovered of a two-kilometer aqueduct that supplied the monastery with water from the Amu Daria. The monastery was looted in the 5th century by Sassanid troops and later used as a burial ground and retreat for Sufic mystics of a rather different religious persuasion.

4. The trio of Buddhist archaeological memorabilia is completed by the sixteen meter high Zurmala Tower, situated five kilometers southeast of Termez and visible from main road. This sixteen-meter-high brick tower is the remnant of the largest Buddhist stupa in the area and is possibly the oldest construction still standing in Uzbekistan. Back to the third and fourth centuries AD, at the height of Buddhist influence, the base of the stupa would have been covered with white lime-stone slabs below red brick decoration and would have housed a collection of sacred Buddhist relics. Today, this former religious magnet lies lost in a deserted cotton field, torn by a huge, heart-rending crack.


5. Kampyr Tepa – the ruins of the fortress are situated 38 êì from Termez on the right shore of the Amy Daria. The ruins of the citadel and unfortified settlement around it date from 3-2 century AD. Kampyr Tepa is one of the most studied site in Northern Bactria of Kushan period. Different finds, among them 4 treasures, are kept in the museum of Khamza Institute of Art in Tashkent.