| | | |
| --- | --- | --- |
| | From Tashkent to Fergana valley, Sarichelek lake | |
Sarichelek is an unique and virgin part of nature of West Tyan-Shan, included in the list of UNESCO, as specially protected territory. Sarichelek lake is a"pearl" of this nature reservoir, it is surrounded in the grips of the mountains, covered with Tyan-Shan fir-trees. Blue water of the lake, the cleanest mountainous air, wonderful landscapes make this region as a nice place of rest. The tour does not require a special training and is available from May till November.
ITINERARY
Day 1
Arrival in Tashkent. Accommodation. Sightseeing.
Day 2
Tarnasfer by airplane to Fergana. accommodation. Sightseeing.
Day 3
Transfer from Fergana via Karavan village to Arkit village (290 km, 6-7 hrs). Camp at the cordon of Sarichelekskiy nature resevoir.
Day 4
Transfer to Sarichelek lake (12 km, 1 hr). View of the most beautiful mountainous lake, surrounded by forests of Tien-Shan fir trees and snow summits of Chatkal range. Passage of 6 km over Keterma pass (2 hr). Camp at warm Iri-Kel lake.
Day 5
Passage over Keterma (2446 m) to Karasu lake (9 km, 5 hrs). Camp at the shore of the lake in fir trees' forest.
Day 6
Descent along Karasu river to Kizil-Kel village (10 km, 6 hrs). On the way visit of picturesque Karasuiskiy water-fall. Overnight.
Day 7
Acquaintance with the traditions and life of local inhabitants. transfer to Tashkent. Accomadation.
Day 8
Depature from Tashkent.
---
| | |
| --- | --- |
| Days | 8 |
| Season | July - September |
Mountainous tear of Fergana valley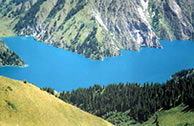 It is a beautiful part of West Tien-Shan. -the region of famous Sarichelek lake. You can admire unique mysterious beauty of Chatkal valley, go along fairy canyon of Southern Aflautun, see one of the most beautiful lakes of Middle Asia - Sarichelek and Karasuu, look at immense fir spaces from bird' s-eye view, admire variety of animals and vegetation, taste delicious cup of tea in the hospitable Kyrgyz mountains, get acquainted with traditions and customs of local inhabitants.
An the end of the route attracting meetings with ancient cities: Samarkand, Bukhara and Tashkent with its gay, crowded bazaars, unique ancient and modern architecture, historical monuments will be waiting for you.
ITINERARY
Day 1
Arrival in Tashkent. Hotel.
Day 2
Transfer by bus on the territory of Kazakhstan to Karabura pass (7 hrs). Camping in the mountainous canyon.
Day 3
Passage over pass (3250 m) to river Chatkal's valley (4 hrs). Lunch in a birch grove. Start of TREKKING. On the suspension bridge passage to another side of Chatkal river. Passage on the immense Chatkal valley. The most beautiful panorama of Chatkal range with its highest point - Chatkal Peak (4503 m).
Day 4
Passage on Aflautunskiy canyon (6-7 hrs). On the way you can admire two small, but very picturesque lakes. One of them is squeezed by long rock walls in the center of canyon, the other is located in the upper valley of Aflatun river.
Day 5
Passage over Ashuu-Tor pass (3360 m, 7 hrs). Descent to the valley of Aflautun South river, then to Uyzlma river's valley. On the way acquain - tance with the customs and traditions of Kirgiz chabans.
Day 6
Passage over Uyalma pass (2550 m) and Kuldambes (2750 m, 7 hrs). Fairy, virgin nature, fir forests, variety of animals and vegetation. Beautiful panoramas for making pictures. Camping at the shore of Sarichelek lake. Swimming.
Day 7
Day of rest near the Sarichelek lake.
Day 8
Passage over Makmal pass (2654 m, 6 hrs). On the way wonderful view of the whole Sarichelek lake is revealed. Descent to Karasu river's valley.
Day 9
Passage along Karasu river's valley to Kizil-kel village (6 hrs). On the way stop at Karakamish lake. Visit national Kyrgyz yurts, acquain - tance with the customs, tasting. Swimming. Visit grandiose water-fall.
Day 10
Transfer through Ferghana valley along Great Silk Road to Margilan (180 km, 6 hrs). Visit oriental bazaar in Margilan. Departure by night train to Bukhara.
Day 11
Arrival in Bukhara. City tour.
Day 12
City tour. P. M. transfer to Samarkand.
Day 13
City tour.
Day 14
Transfer to Tashkent (290 km, 4, 5-5 hrs).
Day 15
Depart home.
---
| | |
| --- | --- |
| Days | 15 |
| Season | July - September |
| Min. group of | 8-16 per |