The main building of mosque is made of burnt bricks. There is a big square premise inside with four niches on sides. Niche with Mekhrab has reach modelling from alabaster and the stalactite arch.

The walls of interior are decorated with miniatures. Main building of mosque with the ceiling of the double dome, high cylindrical drum is included into the compound of medrese with the square by plan yard, surrounded from three sides by the sheltered gallery.
At present the monument is completely restored. Majolica coating of dome, drum and entry portal are renovated. Researched: S.G. Khmelnitsky (1975), B.M. Vaimeri (1946-1947)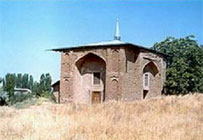 Mausoleum Abduqodira Jeloni, XV-XVI centuries.


It is situated in Poychindaki Gumbaz near Ura-Tube. Mausoleum is situated in the territory of ancient cemetery. It is small monumental cupola brick building, square by plan. Mausoleum has four entrances, decorated by the same facades. Particularly rich is decoration of the interior of the mausoleum: refined profiled arches, shield-like sails, ribs coming from the niches, grates -randjara, decorated by the two coloured mosaic. On the floor on the mausoleum there are four headstones Sagon. The conservation works had been carried out in the mausoleum. Mausoleum needs restoration. The monument is not studied completely.

Mausoleum Domullo Ikroma XIV-XV centuries. Mouminabad region Mausoleum is situated in Lyangar village. It is erected above the grave of connoisseurs of Khadis. At present time it is a pilgrimage place of Muslims.

| | |
| --- | --- |
| before restoration | after restoration |
Mausoleum of Hudoyer Valami XVI. Ura-Tube
| | |
| --- | --- |
| Mausoleum is a part of the architectural compound Khazrati Shoh. The title comes from the name of the legendary holly Muslim hero, blood brother of Kusama ibn Abbasa, cousin of the prophet Mukhamad-Khazrati-Shoh. The compound is pilgrimage place. | |